[ad_1]

Sweet potatoes in desserts? You've voted: You love it. We had to do it again and we couldn't be more pleased with the result. These dark chocolate sweet potato truffles are next-level fudgy perfection!
Perfect for Valentine's Day or a healthier sweet treat to have around in the refrigerator or freezer for when a chocolate craving strikes. Plus, they're EASY to make — just 6 simple ingredients required. Let us show you how it's done!
The secret healthy base for these truffles? The almighty SWEET POTATO! Not only do sweet potatoes create a silky smooth base, but they're packed with nutrition (vitamins A, C, B5, B6, biotin, potassium, fiber, and more!)
Simply peel, chop, and steam them. Then add to a food processor with melted dark chocolate, coconut oil, cocoa powder, maple syrup, and sea salt.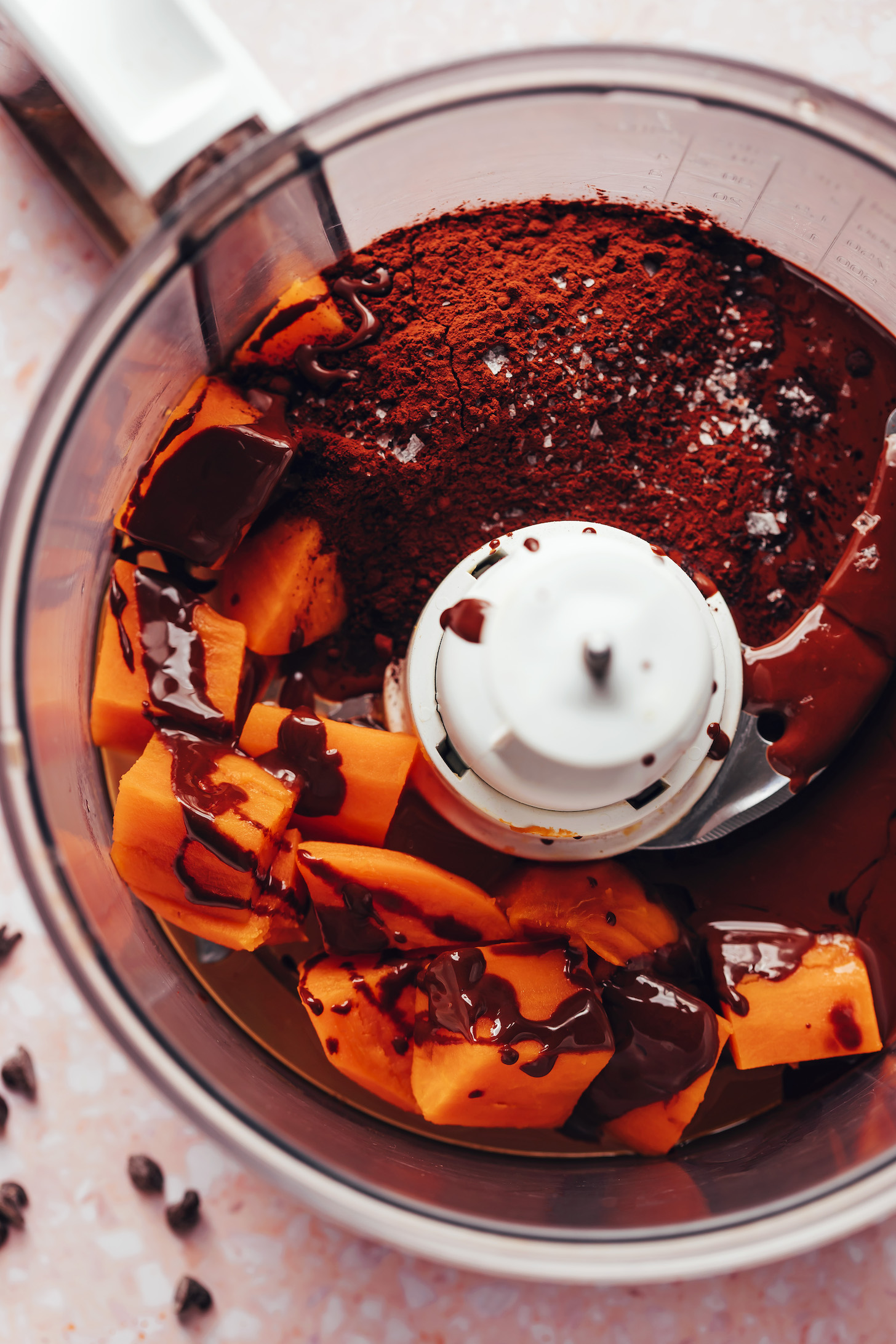 Blend it up and you've got a velvety, rich dark chocolate truffle base.
After chilling the mixture to ensure a firm but scoopable texture, it's ready to roll into truffles and take a dive into cocoa powder to achieve that classic truffle look.
We can't WAIT for you to try these chocolate sweet potato truffles! They're:
Rich
Fudgy
Super chocolaty
Naturally sweet
EASY to make
& Incredibly delicious!
Perfect for Valentine's Day, chocolate cravings, and so much more! They should keep well in the refrigerator for a week or in the freezer for a month. Though we can't guarantee they'll stay around that long 😉.
More Easy Chocolate Desserts
If you try this recipe, let us know! Leave a comment, rate it, and don't forget to tag a photo @minimalistbaker on Instagram. Cheers, friends!
Servings 12 (Truffles)
TRUFFLES
1

cup

sweet potato*, peeled and cut into 1-inch cubes

(1 small sweet potato is ~1 cup, 1/3 lb, or 150 g)

3/4

cup

dark chocolate chips

(ensure dairy-free as needed // we like Enjoy Life)

2

Tbsp

coconut oil

2

Tbsp

cocoa powder

2

Tbsp

maple syrup

1/4

tsp

sea salt
Place the peeled, cubed sweet potato into a steamer basket over boiling water, cover, and steam until very soft (it should be easy to poke with a fork), about 8 minutes.

Meanwhile, melt the chocolate chips and coconut oil by adding them to a small glass or metal bowl and carefully placing the bowl on top of a saucepan of simmering water. Heat, stirring occasionally with a spatula or spoon, until melted and no lumps remain, about 5 minutes. You can also melt it in a heat-proof bowl in the microwave in 20-second increments until melted. Remove from heat.

To a food processor, add the steamed sweet potatoes and melted chocolate chips and coconut oil along with the remaining ingredients (cocoa powder, maple syrup, and salt). Process for several minutes until completely smooth.

Transfer the mixture to a freezer-safe bowl and let it set in the freezer until firm and scoopable, about 45-60 minutes. Meanwhile, place 1 tablespoon cocoa powder in a small bowl and set aside.

Once the truffle mixture is firm, scoop out heaping 1 tablespoon-sized portions and roll into balls in your hand (work quickly here so they don't soften too much!). Dip the truffles into the bowl with the cocoa powder and then re-roll them between your hands (this helps to evenly distribute the powder in a thin coating).

Enjoy immediately or, ideally, allow the truffles to firm up a bit back in the refrigerator or freezer for another 15 minutes. Best enjoyed chilled, straight from the refrigerator.

Store leftover truffles in a sealed container in the refrigerator for up to 4-5 days or in the freezer for up to 1 month.
*You can use white or orange sweet potatoes — the white variety is starchier and will create a mixture that is a bit more chewy. The orange variety will create a slightly wetter and softer mixture. We like both!
*You can make the mixture in advance and keep it in the refrigerator until ready to roll the truffles. Storing it in the freezer works, too — simply let it soften enough to scoop it before use.
*Nutrition information is a rough estimate.
Serving: 1 truffle Calories: 93 Carbohydrates: 11.3 g Protein: 1.2 g Fat: 6.8 g Saturated Fat: 4.5 g Polyunsaturated Fat: 0 g Monounsaturated Fat: 0.2 g Trans Fat: 0 g Cholesterol: 0 mg Sodium: 56 mg Potassium: 70 mg Fiber: 2.3 g Sugar: 6.1 g Vitamin A: 1773 IU Vitamin C: 0.3 mg Calcium: 8.9 mg Iron: 2.2 mg


[ad_2]